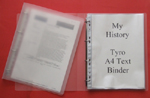 These simple inexpensive slim binders are useful for storing all those important source documents you've downloaded from the internet. The binders are made from translucent polypropylene that allows the user to read the first page through the cover.

Available in three different ring sizes enabling you to choose the capacity to suit your needs. Although they are not wide enough to accept dividers their low cost will allow you to divide your papers into several different binders. Each binder is fitted with a quality 4 ring mechanism.


Available in 3 width sizes.